On April 25th 2015 Nepal experienced a disaster: an earthquake of 8.1 on the scale of Richter. It lasted 53 seconds with nearly 10.000 victims, immersing a whole nation in trauma.
To commemorate this, twenty art students from the Rietveld Academy in the Netherlands and from the Kathmandu University Art Academy in Nepal have worked in teams during a month-long project with the theme: "53 Seconds 5 Years Later – Remembering, Moving Ahead".
Working in pairs they reminisced, empathized, discussed and collaborated to respond to an experience, so deeply seated in personal and social conscience. Twenty art students have forged bonds, meeting each other in their creative process. This project also is a tribute to the resilience of the Nepalese people, the endurance and strength with which they rebuilt their society.
In March 2020 their works of art have been displayed in the Patan Museum, Lalitpur, the famous UNESCO Heritage site, at the heart of Nepal's capital.
On 16 and 17 September, the result of the project can be seen in 'De Kunstkapel' in Amsterdam. Two Nepalese students from the project are therefore present. We hope this will continue given the uncertain times …
On this April 25th, 2020 we remember those 53 seconds of 5 years ago, looking back, at the same time reflecting on the present… and looking ahead!
And now a new challenge, worldwide this time: the Covid-19 lockdown. Again, a disaster, claiming victims worldwide as well as having a dramatic impact on many working in tourism, daily labourers and migrant workers. Nepal has them all and again the country faces a crisis, exactly 5 years after this devastating earthquake.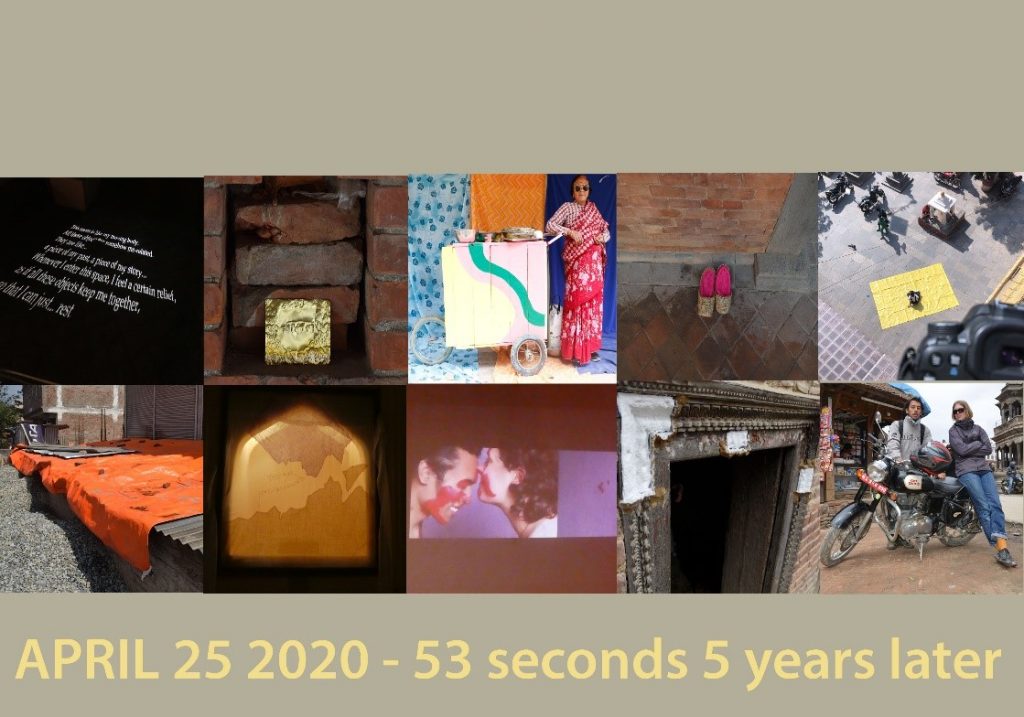 WE ARE LOOKING FORWARD TO YOUR PRESENCE AT THE EXHIBITION ON
16 & 17 SEPTEMBER 2020